Waste Recycling
We accept many different types of waste for recycling at our waste transfer site.
We pay for most types of metal from commercial to domestic customers for recycling into new products:
Light iron (corrugated sheets, car panels etc)
Complete cars (you must bring the log book)
Farm scrap
Demolition scrap
Cast iron
Mixed steel scrap
Plumbers copper (copper tube, copper cylinders)
Brass scrap (taps, door handles)
Electric cable (with the plastic covering including armoured cable)
Stripped copper wire (bright or tinned)
Aluminium (alloy wheels, cast aluminium, aluminium window frames, mixed aluminium offcuts)
Stainless Steel (kitchen sinks, chimney flue liner)
We also accept sorted and unsorted waste for recycling. The items attract variable charges:
Mixed builders waste
Industrial & commercial waste
House clearance waste
Hardcore (bricks, blocks, concrete)
Timber (pallets, doors, fence panels)
Soil (top soil, sub soil)
Plastic (upvc window/doors and frames)
Green waste (hedge/tree trimmings)
We collect skips full of mixed waste and we separate this waste into different types for recycling either on site or at dedicated sites situated as locally as possible.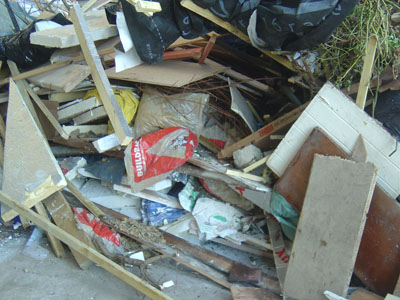 The pictures below show the waste separated: Timber waste which is chipped for either composting, powerstation feed or is reused to make chipboard; UPVC which is recycled and used again; Hardcore which is either reused as is or is crushed before reuse; Screened soil which is mainly used for landscaping.
We also sell recycled products:
Hardcore (crushed or as is uncrushed) we deliver from one tonne upwards loose or in dumpy bags)
Screened soil (suitable for making up ground, banking etc, grassing or turfing, not suitable for garden borders). Delivery as above loose or bagged.